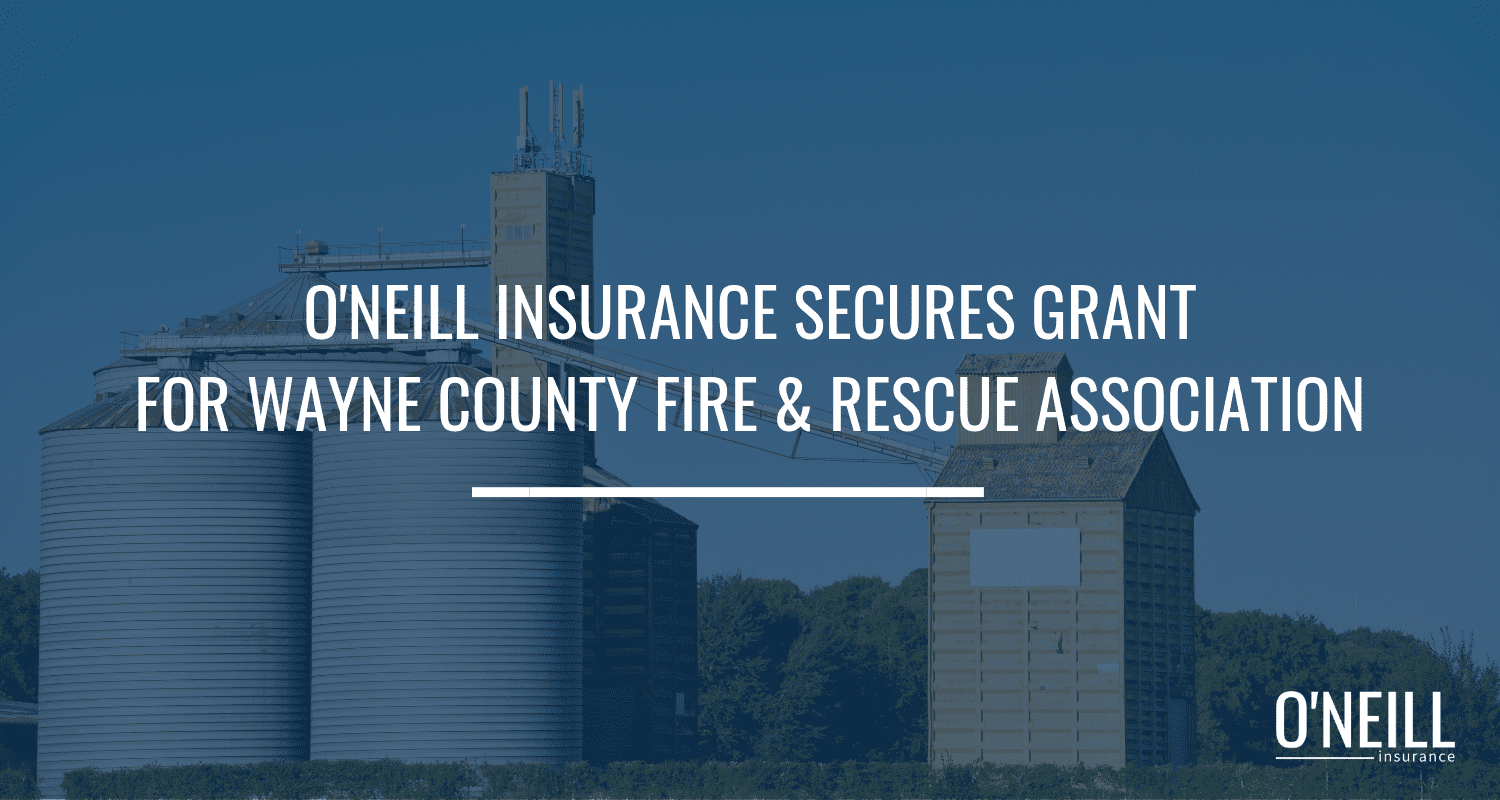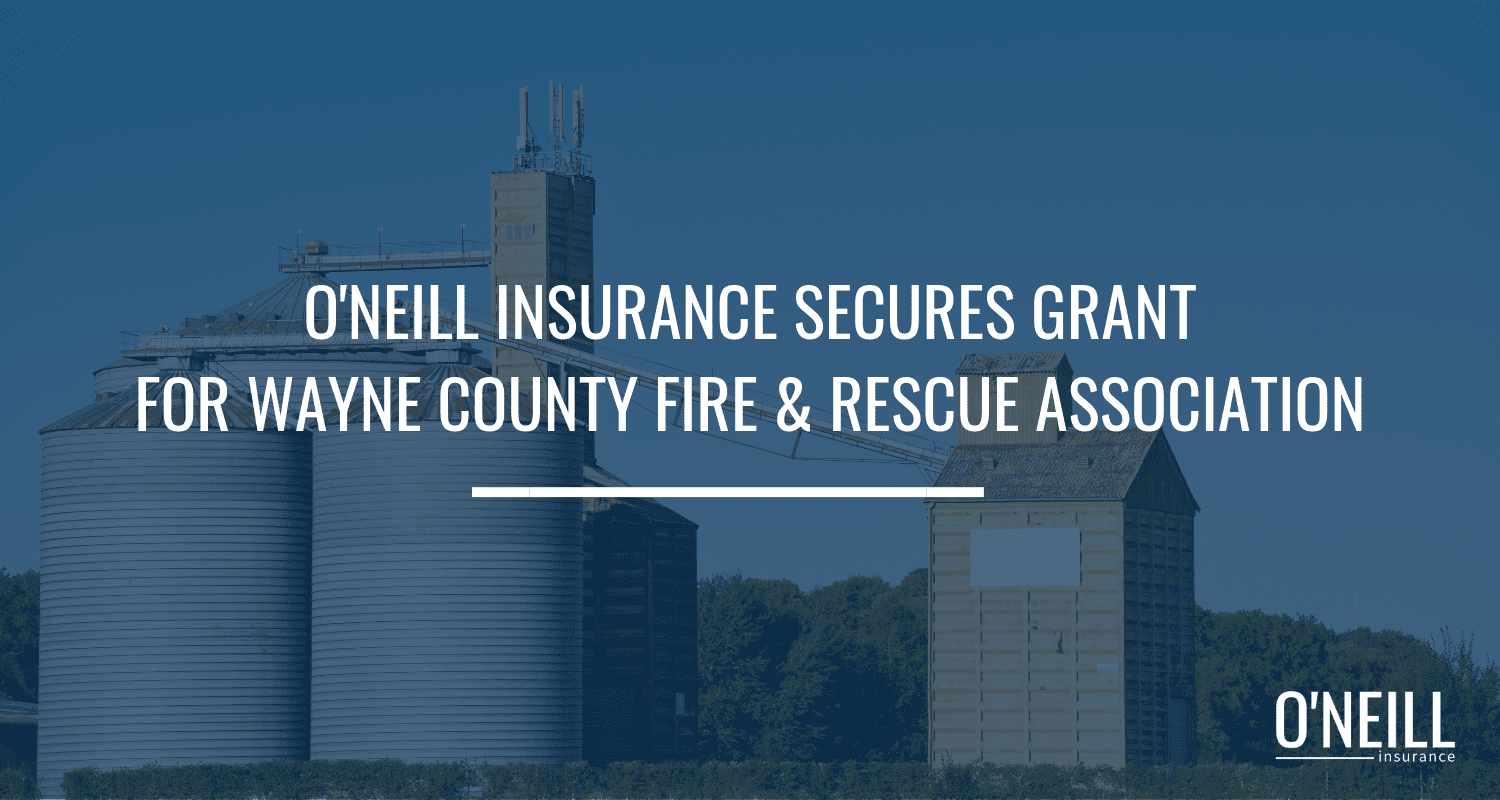 On Friday, August 16th at 9:00 AM O'Neill Insurance will be awarding the Wayne County Regional Training Facility a grant of $15,000 from the Westfield Insurance Foundation. This grant is part of the Westfield Legacy of Caring program, which invited O'Neill Insurance (a Westfield independent insurance agency) to nominate a local nonprofit organization for the award.
"One of our core fundamentals at O'Neill Insurance is Make a Difference," said Patrick O'Neill, President and CEO of O'Neill Insurance. "We are proud of the community in which we live and work and look for unique opportunities to partner with local non-profit organizations. As an Agriculture and Farm Insurance Specialist, I found it very fitting to support an organization that's going above and beyond to train first responders and ag-industry employees on farm safety."
The Wayne County Fire & Rescue Association's Grain Safety Training project is in collaboration with the Wayne County Farm Bureau. The training program will be owned, operated, and maintained by the Wayne County Regional Training Facility. The Wayne County Farm Bureau will be handling the planning, logistics, and fundraising for the project.
"We are so grateful for the generous support of the Westfield Legacy of Caring program," said Lindsay Shoup, Organization Director of Wayne County Farm Bureau. "The Legacy of Caring grant will have a direct impact on supporting agricultural safety in Ohio. Thanks to this grant, we were able to move forward with the final purchase of equipment to have this training site ready for year-round access by first responders, farmers, and commercial elevators."
This year, the Westfield Insurance Foundation donated more than a half million dollars to neighborhoods in 15 states. O'Neill Insurance is one of 76 agencies that nominated a nonprofit, including The Wayne County Fire & Rescue Training Association for the Westfield Legacy of Caring grant program. Awarding grants through the program is an extension of the fundamental role that insurance plays every day in stabilizing families, businesses and communities in times of uncertainty. Westfield is proud to work with their independent agents in distributing over $2 million in the last five years.
"Together with our agency partners, Westfield continues to build on the strong commitment to caring that the founders of our company imagined," said Ed Largent, Westfield President, CEO, board chair and Westfield Insurance Foundation chairman.  "At Westfield, we want to give our communities everything we can: Protection, safety and support and our commitment doesn't stop there."
About Westfield Insurance Foundation
Westfield Insurance Foundation was established in 2005 as an independent private foundation endowed by Westfield Insurance. In keeping with the values of Westfield Insurance, the Foundation exists as a dedicated community and industry partner; concentrating resources to have an impact on safety, disaster recovery and family stability. The Foundation donates over $3 million annually to a variety of charities.
About Westfield
Westfield was founded in 1848 by a small group of hard-working farmers who believed in the promise of the future and the power of the individual. Today, as one of the nation's leading property and casualty (P&C) companies, we remain true to their vision and are dedicated to your protection and prosperity and to the progress of our community. Visit westfieldinsurance.com for more information.