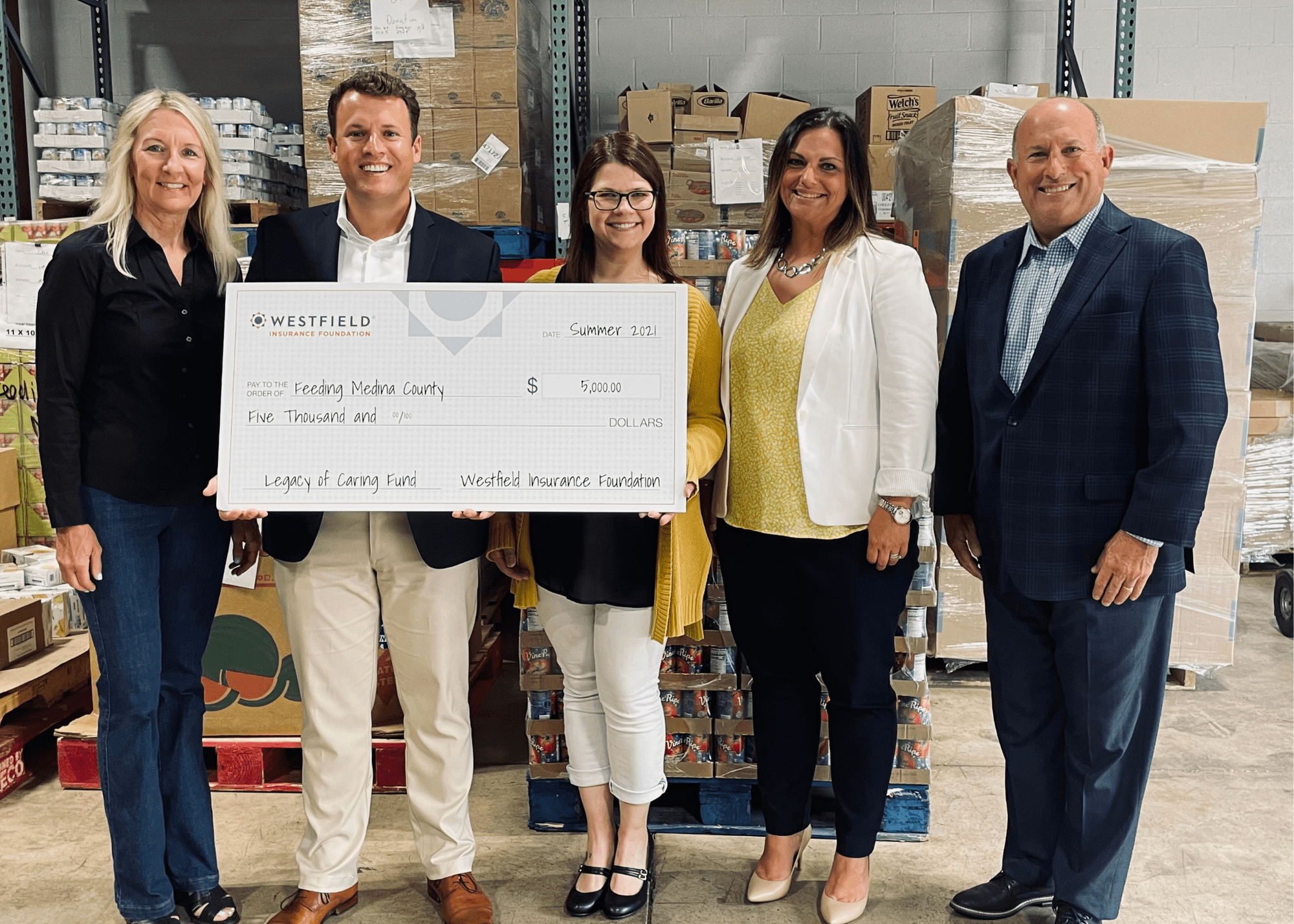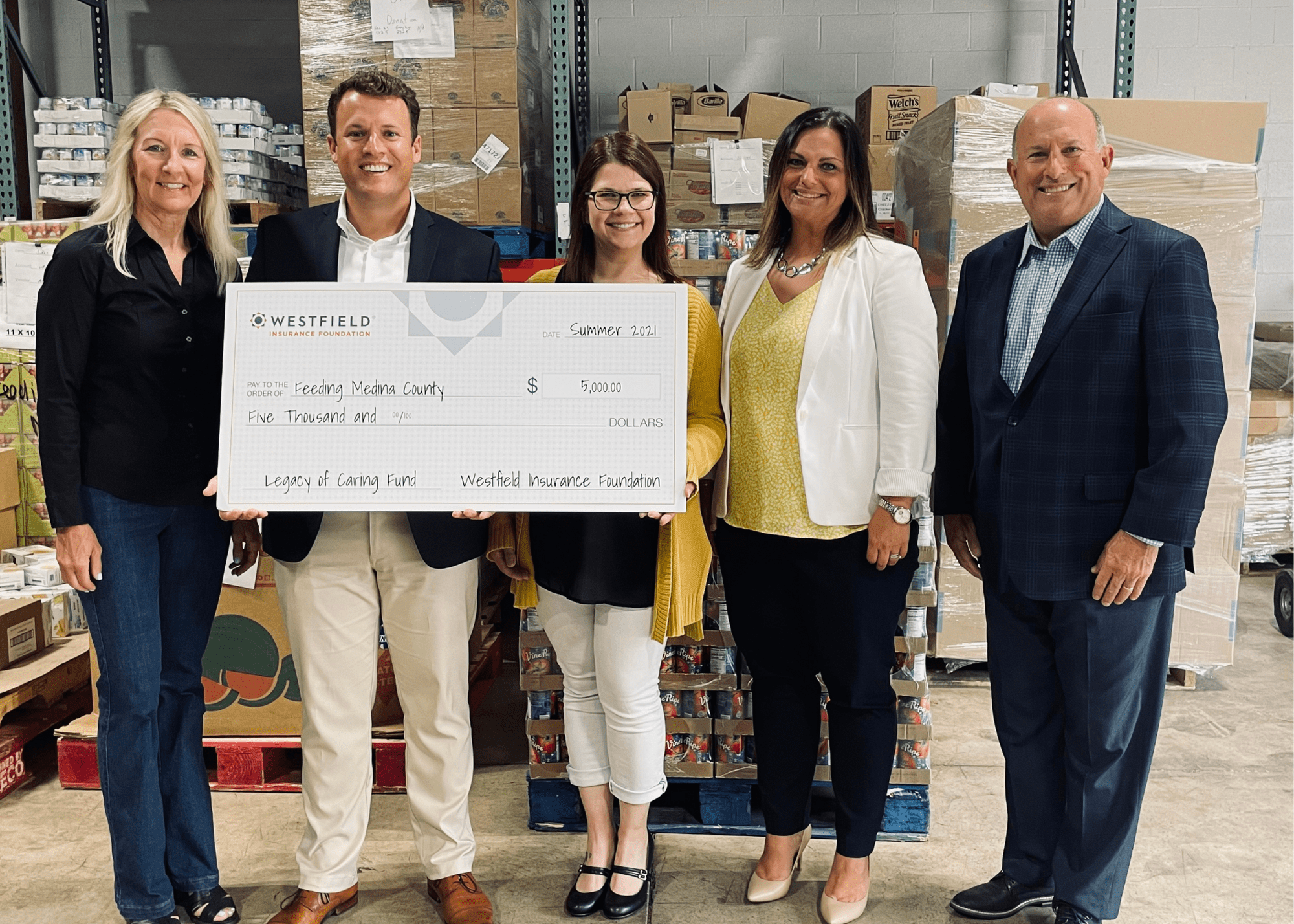 On Tuesday, July 13th at 10:00 AM O'Neill Insurance will be presenting a check for $5,000 to Feeding Medina County. This donation is part of Westfield's Legacy of Caring Program, which invited O'Neill Insurance (a Westfield independent insurance agency) to nominate a local nonprofit organization who is providing critical resources to the community.
"One of our core fundamentals at O'Neill Insurance is to Make a Difference," said Pat O'Neill, President of O'Neill Insurance. "We are proud of the community in which we live and work and look for unique opportunities to partner with local nonprofit organizations. We were honored to nominate Feeding Medina County for this donation, an organization focused on nourishing Medina County with critical programs that put food on the table for children, families, and seniors at risk of hunger."
Feeding Medina County is on a mission to create an environment where no one goes hungry. They set out to accomplish this mission through the following programs:
Free Transit Service Program – 

This program works with 24 local food pantries across Medina County, delivering approximately half million pounds of food every year that feeds 7% of the Medina County population.

Weekenders for Children Program –

Approximately 1,000 bags are packed and distributed every week to children in the National Free and Reduced Lunch Program from every elementary school and Head Start program across Medina County. Weekender bags contain three meals and breakfast items meant to fill the gaps for children and families over the weekend.

Emergency Food Pantry Service –

Individuals and families in need in Medina County can access the food pantry at Feeding Medina County once a month, typically receiving a minimum of 20 lbs. of food per person in their household. 

Staples for Seniors –

Monthly, approximately 450+ seniors and disabled adults living in 14 facilities across Medina County receive 30+ pounds of food including meat, dairy, and fresh produce. 

Direct Food Distributions –

Monthly, Feeding Medina County works with the Akron Canton Regional Foodbank, Sandridge Foods, and other resources across the county, distributing approximately 20,000 pounds of food to over 200 families at the Medina County Fairgrounds, Hidden Hollow Camp in Lodi, and beginning next month, Art Wright Stadium in Wadsworth. 
"This donation from Westfield Insurance Foundation could not come at a more integral time," said Katy Fuerst, Executive Director at Feeding Medina County. "We are so grateful to the Foundation for this donation because it will allow us to continue to expand and mobilize our services, making it even easier for our clients throughout the county to access the food that they need."
Each year, Westfield independent insurance agents, like O'Neill Insurance, are invited to nominate a local nonprofit for the Legacy of Caring program. The Westfield Insurance Foundation, an independent private foundation endowed by Westfield, awards the donation as an extension of the fundamental role that insurance plays every day in stabilizing families, businesses, and communities in times of uncertainty.
This year, the grant program, funded by Westfield Insurance Foundation, is focused on supporting nonprofits that are helping families and businesses stabilize and recover from the financial impact of the COVID-19 pandemic. In the last 15 months, nonprofits became increasingly important as the number of people in need increased while funding support simultaneously evaporated. Feeding Medina County was selected by O'Neill Insurance because of the incredible work they are doing in the community to ensure no one goes hungry.
"We value our partnerships with our independent insurance agencies," said Ed Largent, Westfield President, CEO, and Westfield Insurance Foundation Chair. "2020 was an incredibly tough year and Westfield recognizes that families trying to achieve and maintain stability were faced with multiple barriers to success. Investing in our agents' communities will help families realize short-term successes with long-lasting outcomes."
About Feeding Medina County
Feeding Medina County was born to answer the immediate needs of food insecurity for Medina County residents. Their mission is to educate, engage, and lead the Medina County community in creating an environment where no one goes hungry. 
About O'Neill Insurance
O'Neill Insurance is a risk management and insurance firm in Wadsworth, Ohio – specializing in business insurance, group health insurance, and personal insurance.  O'Neill Insurance's core purpose is to enhance the lives of others. Whether it's through our insurance products and services or through our interaction and engagement with our customers, carriers, team and their community – O'Neill Insurance is here to serve and support others. 
About Westfield Insurance Foundation
Westfield Insurance Foundation was established in 2005 as an independent private foundation endowed by Westfield Insurance. In keeping with the values of Westfield Insurance, the Foundation exists as a dedicated community and industry partner; concentrating resources to have an impact on safety, disaster recovery and family stability. The Foundation donates over $3 million annually to a variety of charities.
About Westfield
Westfield was founded in 1848 by a small group of hard-working farmers who believed in the promise of the future and the power of the individual. Today, as one of the nation's leading property and casualty (P&C) companies, we remain true to their vision and are dedicated to your protection and prosperity and to the progress of our community. Visit westfieldinsurance.com for more information.
###