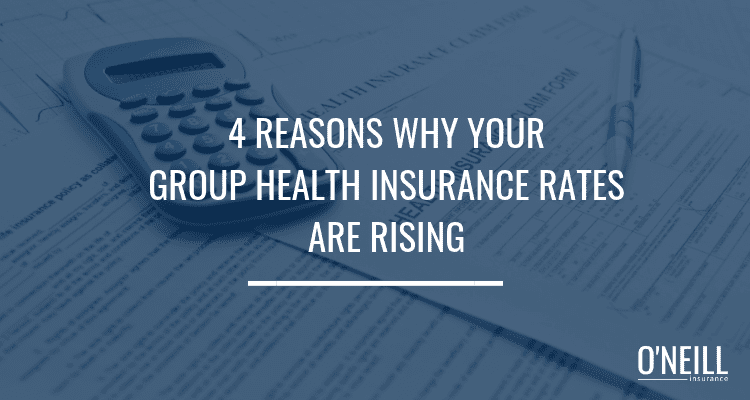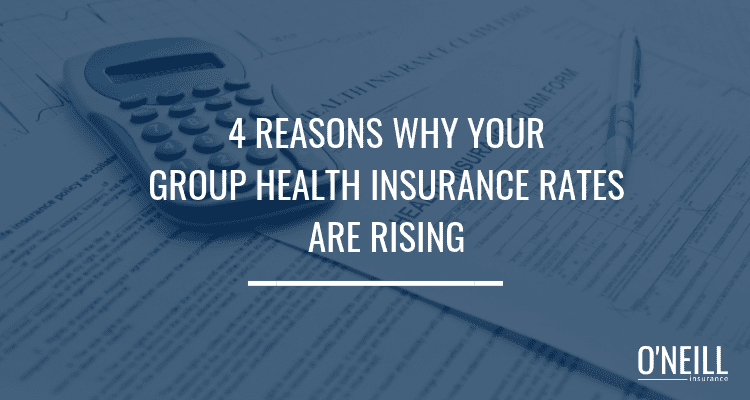 It makes you feel like you have no control over the cost of your health insurance.
It's frustrating, and simply just not fair.
Here at O'Neill Insurance, we believe you deserve clarity and transparency when it comes to your group health insurance.
We understand how frustrating it is to feel like you have no control over one of your largest line items on the balance sheet.
Which is why we've helped businesses across the region really gain a deeper understanding as to WHY rates are rising.
The purpose for this is to simply help you make more informed decisions around the design and implementation of your group health insurance plan. 
Here's the 4 most common reasons why your group health insurance costs are on the rise:
Prescription costs are skyrocketing. Prescription drug costs continue to represent a huge portion of the health insurance expenditures. The Centers for Medicare & Medicaid Services (CMS) projects from 2012 to 2022, the annual expenditures on prescription drugs will grow by 75% and outpatient prescription drugs will account for about 9% of the total health insurance spend.

People are utilizing healthcare services more.

Utilization of healthcare services has risen over the last decade. There's a number of factors that has resulted in increased utilization – but some in particular are breast cancer screenings, immunizations for children, and diagnostic procedures like CT scans and MRIs (to name a few).



People are getting older.

According to the US Census Bureau, the number of Americans ages 65 and up is expected to nearly double by 2025. As the population ages, there's a subsequent rise in the occurrence of chronic diseases such as asthma, heart disease and cancer – and the need for more resources to fight these diseases.



People aren't educated on how to be better consumers of their healthcare. More than 1 in 3 Americans have difficulty with common health tasks like reading a prescription drug label or making wise health care decisions, according to the US Department of Education's National Assessment of Adult Literacy. This results in higher utilization of basic and expensive health services like going to the ER instead of urgent care, for example. 
How can employers address rising group health insurance costs?
We unpack this question in detail in our Mitigating the Cost of Employee Benefits Toolkit. (Download it here!) 
But to start, focus in these 3 areas:
Meet with a trusted Benefits Advisor to discuss your benefits strategy.

A credible, licensed benefits advisor has access to the latest resources when it comes to healthcare – and should be able to discuss alternative plan design strategies that will lead to long-term cost-savings on your group benefits plan. 



Help your employees become better consumers of their healthcare.

Deploy a simple communications strategy to help educate your employees on their health insurance plan and include resources such as:
Questions to ask your doctor

Brand name vs. generic drugs

ER vs. Urgent Care

Etc.



Encourage healthy behaviors.

Although recent research announces that there's not a direct correlation between health insurance costs and wellness programs – simply investing in the wellbeing of your people will help them remain healthy, be more conscious of their healthcare decisions, and keep them more productive in the workplace. 
Have questions about your Group Health Insurance?
Our group benefits team at O'Neill Insurance is here to help YOU gain clarity and transparency around the cost of your group health insurance – giving you more autonomy when it comes to your healthcare spend. 
And in the meantime, download our Mitigating the Cost of Employee Benefits toolkit.
So you can stop feeling frustrated by the lack of control you have on one of your largest line items, and instead gain peace of mind knowing that there's cost-effective solutions that will keep your benefits budget in tact.
Fill out the form below to download our FREE toolkit: Mitigating the Cost of Employee Benefits
Benefits Toolkit - Mitigating Health Care Costs (1)
This article was adapted from Zywave. This is not intended to be exhaustive nor should any discussion or opinions be construed as legal advice. Readers should contact legal counsel or an insurance professional for appropriate advice.