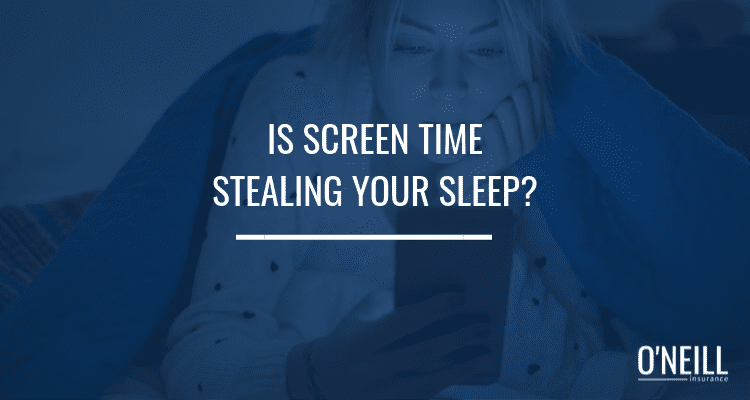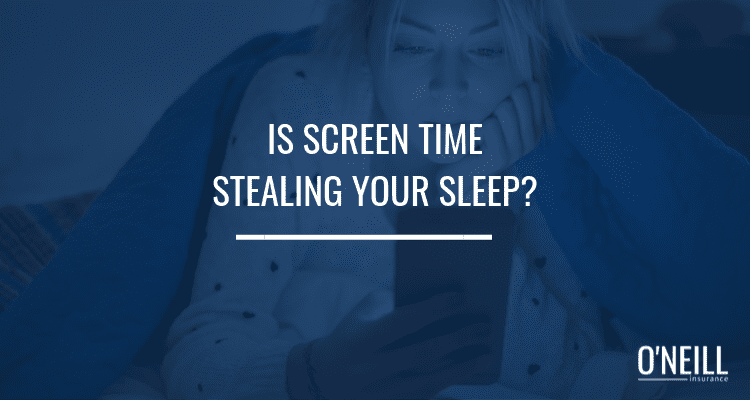 If you have trouble falling asleep, screen time (phone, tablet, computer, tv, etc.) may be to blame.
According to a survey from global tech solutions company, Asurion, nearly 75% of adults bring their phone into bed with them and nearly 25% of adults reported that their phone was the last thing they saw before they fell asleep.
The Importance of Sleep
1 in 3 American adults don't get the recommended seven hours of sleep every night.
While this might not seem problematic, consistently failing to get enough sleep can put you at risk of significant health problems.
In fact, not getting enough sleep is linked to a variety of chronic conditions like Type 2 Diabetes, Heart Disease, Depression and Obesity (to name a few).
Moreover, failing to regularly get enough sleep can lead to chronic fatigue, which can increase the risk of productivity issues at work and distracted driving crashes.
3 Scientific Reasons Why Screen Time Is Messing With Your Sleep:
Researchers at Harvard identified three main ways that using your phone, or any electronic device, before going to bed can derail your sleep schedule:
Melatonin Suppression: The Harvard study revealed that those who used electronic devices before going to sleep had lower levels of the sleep-regulating hormone, melatonin. That's because the blue light emitted by electronic devices suppresses the production of melatonin, which controls your circadian rhythm – your body's natural sleep and wake clock.
Later Sleep Onset: The study also found that the amount of time it took to fall asleep was longer for those who used electronic devices than for those who didn't. If you're mindlessly scrolling through social media sites instead of reading a book or meditating, it's more likely that you'll have a harder time falling asleep.
Reduced REM Sleep: Research shows that electronic device usage before bed results in a reduced amount of rapid eye movement (REM) sleep cycles. REM sleep is a vital component of our sleep patterns.
How Much Sleep Is Enough?
According to the Centers for Disease Control and Prevention (CDC), adults ages 18 and older should get seven hours or more of sleep per night.
The CDC also stresses that all sleep isn't created equal, and that good sleep quality is essential to your health and well-being.
To determine your sleep quality, evaluate if you're waking up multiple times throughout the night, if you wake up feeling unrested (even if you slept for seven hours) or if you experience breathing problems while you're sleeping.
While your sleep quality may be improved by implementing better sleep habits, symptoms of poor sleep quality may be attributed to a sleep disorder that you should see a doctor for to discuss treatment options.
3 Tips for Healthy Sleep
Benefits of Getting Enough Sleep:
Sleep is essential for maintaining a healthy, productive and low-stress lifestyle.
Here's a few benefits of getting a good night's sleep:
Increased productivity and work performance: Giving your body enough time to go through all the sleep stages is necessary for energy, muscle repair, improved memory, and the release or regulation of important hormones that are essential for everyday functions within the body.
Decreased weight gain: According to the National Sleep Foundation, not allowing your body enough time to rest and regulation can lead to an increased appetite. The particular hormones that give you the feeling of being full or hungry can become irregular, which may cause increased feelings of hunger that lead to weight gain.
Improved mental health: Getting enough sleep can help alleviate feelings of fatigue that may contribute to stress, depression and anxiety. Symptoms of fatigue can be drowsiness, loss of energy and even mood swings.
4 Ways to Prevent Screen Time Before Bed:
To prevent harmful effects of electronic devices, there's a few steps you can take including:
Check your device's settings for a "nighttime" mode, which adjusts the screen lighting to promote sleep.
Refrain from using your phone for at least an hour before bed.
Set your device's sound settings to "silent" so that you won't be woken up by texts or emails while you're trying to sleep.
Try reading a book or meditating to relax before bed instead of using your phone or watching TV.
Zzzz….
So, what do you say?
Are you committed to a healthier lifestyle?
If so, let's focus on getting stronger sleep patterns.
Start with this:
build habits (like the ones listed above) within your night routine that separates you from the screen at least 1 hour prior to falling asleep.
Here's to less sleepless nights.
Sweet dreams!
This article is for informational purposes only and is not intended as medical advice. For further information, please consult a medical professional. Components of this article were adapted from Zywave. This is not intended to be exhaustive nor should any discussion or opinions be construed as legal advice. Readers should contact legal counsel or an insurance professional for appropriate advice.